A new friend on screen, badass geese, and a little break
I had a blast last Thursday with the debut of our first "Friends over" chatting stream with my lovely friend Alexandra! We´re really looking forward to doing this again and, if no catastrophe happens, we will in a couple of weeks again! We´re open to getting feedback on what you would like to ask or hear from us!
By the way, the VOD will be uploaded on my Youtube channel (Anna Hetkinen) soon, so if you have missed the live, you can watch it there later on!
And I want to thank NathaliesWinter once again for playing with me Untitled Goose Game on Friday, we had so much fun causing chaos to the little neighborhood! In fact we managed to complete all the task lists, except for the "quick" ones, so we´ll return for that another time!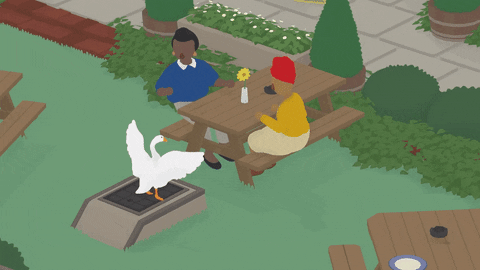 While I have been enjoying your company on Twitch, school assignments are aggressively making a comeback, which means I need to take a little break from streaming. This means that for the following 3 weeks I will be only streaming on Fridays. Thank you for your understanding and support!
I will be still posting on this blog every Saturday, so you can always keep updated.
For now, have a great rest of the weekend and I will see you soon!
-Anna
Schedule for the upcoming weeks on Twitch:
Date as dd.mm.yyyy, hour UTC+2 Helsinki time:
Friday 12.11.2021: 5pm-9pm, gaming stream (Final Fantasy)
Friday 19.11.2021: 5pm-10pm, chatting stream (Friends over w/ Anna and Alex), Anakin b-day special (he´s turning 5 years old!) and gaming (Domestic Dog)
Friday 26.11.2021: 5pm-9pm gaming stream (TBD)